Welcome
(96MW Rongnichu Hydro Electric Project (A run of the river scheme))
Registered Office :- E-585, Greater Kailash-II, Ground Floor, New Delhi-110048. Tel: +91-11-41012163 Project Office :- D.D. Sharma's Building (2nd Floor) Near State Bank of India, Duragaon, Tadong, Gangtok (East Sikkim) 737102, Tel.: 03592-233070
Madhya Bharat Power Corporation Limited is implementing 96 MW Rongnichu Hydro Power Project in East Sikkim on Rongnichu river near Gangtok. The project is close to State Highway NH31A. Financial closure for the project has been achieved. Power Finance Corporation Ltd. is the Lead financial Institution of the Company. Civil construction works are in progress.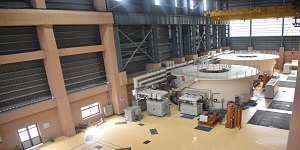 MBPCL is a Special Purpose Vehicle (SPV) of Sarda Energy & Minerals Limited. There are -over 100 employees working for the project. The civil works of the project are being executed by Moshvaraya Infrastructure Ltd. The contract for Electro-Mechanical works for Turbine and its Auxiliaries has been awarded to M/s Litostroj Power d.o.o., Slovenia and for Generator and its Auxiliaries to M/s CG Electric Systems Hungary Zrt., Hungary. The hydro mechanical works have been awarded to M/S Texmaco Rail & Engineering Limited and M/s Chhattisgarh Metaliks & Alloys Pvt. Ltd.
The Project area extends from the barrage site at Namli, 9th Mile on NH-31A to the Power house site at Kumrek near Rangpo in East Sikkim. The power generated shall be evacuated by a 7.5Km long 220KV D/C line from kumrek generating substation to PGCIL's Rangpo pooling substation at Samardung.